Disney remakes are all the rage at the box office in 2019. With this year's Aladdin and The Lion King each raking in over a BILLION dollars each, it seems that Disney has found a formula for success: remaking their animated renaissance features, in either live action or "photorealistic" remakes. 
With that, Nicole and Erin have taken it upon themselves to fancast a live action version of 1997's Hercules, which has yet to hit the remake pipeline. 
---
Hercules – Michael B. Jordan
As the titular character, casting Hercules is arguably the most important choice. Herc absolutely be swole, while also delivering a believably  earnest and innocent character. Michael B. Jordan has the biggest, sweetest, most wholesome boyish smile, while maintaining the ability to get unreasonably ripped. Good LAWD.
The jury is out on whether he can sing, which matters for one of Disney's best soundtracks, but he could get training or just Milli Vanilli it. After all, there's a long tradition of Disney having someone else do the singing, like with Young Simba or Mulan.
Megara – Zendaya
How could we pick anyone else? Zendaya has the perfect combination of smarts, sass, and singing voice to play Meg. Her personal style, much like Meg's, is iconic, and with them pins, she'll rock the shit outta some Grecian frocks.
Hades – TIE: Aubrey Plaza & Jason Sudeikis
We couldn't decide here. Aubrey Plaza would be amazing because she's Aubrey Plaza, and often refers to herself as the child of darkness. She'd be a nice way to erase the James Woods of it all, considering he's a living nightmare of a human being. But Jason Sudeikis also has the charisma and smarminess that Hades needs.
Phil – Danny Devito
There can only be one Phil, and it's Danny Devito. The live-action The Lion King knew better than to try and replace James Earl Jones, after all. Don't mess with what works.
Pain – Zach Galifianakis

The original Pain—Bobcat Goldthwait—has such a distinctive presence, it's hard to compete. But, Galifianakis could give him a run for his money. Sure, Galifianakis's voice isn't as… recognizably screechy as Bobcat's, but he's definitely capable of the lightly chaotic, sycophantic energy that this role requires. Just take his Hangover character and make him a shape-shifting lackey for the lord of the Underworld.
Panic – Michael Peña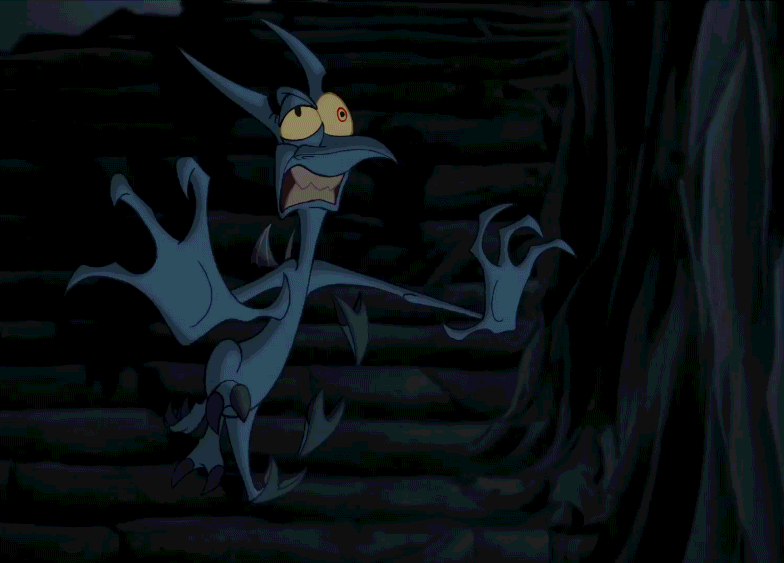 Peña's fast-talking comedy makes him the perfect choice for Panic. His turn as Luis in Antman proves he's more than capable of handling the role of bumbling yet show-stealing sidekick. Can't you just imagine watching his and Zach Galafianakis's faces go through a wide range of emotions when Hades finds out that they didn't succeed in killing Hercules?
Honorable Mention: William Jackson Harper
WJH as Chidi on The Good Place makes so many panicked faces, they may as well rename the character! If Hercules's Panic had a penchant for stomach aches, WJH would be a shoe-in.
The Muses:
Calliope – Queen Latifah
Calliope is the leader of the Muses and does most of the singing, and Queen Latifah has the height, singing voice, and presence to lead. Enough said.
Clio – MJ Rodriguez
This Pose star is on the rise, so let's give her an even bigger platform for people to get to know her talent. Clio is the muse of history, and given all the history MJ is making on and off screen as an award-wining actress who's part of the largest transgender cast on a scripted series, it's only right to cast her in this part.
Thalia – Amber Riley
Thalia is the muse of comedy, and Amber Riley's comedic and musical chops are exactly what this role needs. She's sassy, curvy, and we can just hear her saying "Honey, you mean HUNK-ules."
Melpomene – Vanessa Williams
This is a queen right here. She's got pipes, she's got looks, and she could definitely pull off the thick mane of curls that make Melpomene memorable. Plus, with her theater background, she's got all she needs to embody the muse of tragedy.
Terpsichore – Catherine Zeta Jones
Repping the muse of dance, we have CZJ, who hosts a ton of dance background, most notably in Chicago. We know she can sing and rock a short haircut (again, see Chicago), and honestly we should probably throw a bone to all the people complaining about how ethnic we've made this movie already haha.
Zeus – Kurt Russell
This casting choice is based on a number of factors: Kurt Russell's handsomeness, his recent turn as Ego in Guardians of the Galaxy Vol. 2, and as Nicole puts it, his "former jock" energy.
Hera – Salma Hayek
Salma Hayek is a literal goddess. Do we really need to say anything more to convince you? Just look at her. End of story.
Hermes – Awkwafina
Hermes is quick on his (winged) feet and quick-witted, and we can't think of a better person to fill those shoes than Awkwafina!
Alcmene – Nia Vardalos
What, are we not going to include some people of Greek descent? Nia Vardalos is THE Greek actress. She definitely has that supportive mom vibe needed for Herc's adoptive mom, Alcmene.
Amphytrion – John Stamos
Haaave mercy! Let's just keep giving Herc hot dads. We deserve eye candy of all ages.
So, Disney—please call us ASAP to get this ball rolling.
We think this is a pretty perfect cast. Who would you cast in a live action Hercules? What other Disney adaptations do you want to see next? Hit us up on Twitter, or write your own piece to back up your claims!