Pride is more than a parade or an excuse to throw rainbows in your personal or corporate social media. It's not just a time to party.
Pride is also an important time to reflect and celebrate the heroes of the LGBTQ+ community, who have fought for their right to exist. Who have helped change minds. Who have protested or rioted or lived authentically as themselves, which is also somehow a form of protest. Who have been closeted or out. Who have struggled publicly or privately with their identity, sexuality, or the attitudes and teachings that made them feel different. Who have made the world safer and more inclusive, in ways big and small.
So we asked our staff… Who is your Pride hero? Here's what they said. 
---
Jillian Conochan: Lil Nas X
I'm no Zoomer so please don't crucify me if I don't get all the facts exactly right, but you really gotta hand it to Lil Nas X for smashing onto the scene with a genre-busting song that got the Barstool boys taking shots and pointing at each other crooning about riding til they can't no more… AND THEN informing everyone that he's gay so if you have a problem with it, you're only outing yourself as problematic.
Now that's what I call a Pride hero👇 and that's what I call a run-on sentence ☝️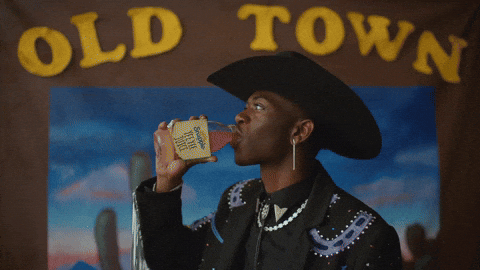 Sam Hedenberg: David Sedaris
It should come as no surprise to anyone who's read my writing that my hero and creative inspiration is David Sedaris. My mania is so fervent for this man, I have a Google alert set for him.
Sedaris and his work have taught me to appreciate the mundane, to pay attention to what I pay attention to, and to find the common humanistic themes in seemingly unrelated snippets of life. His daily writing rituals and dedication to the craft are likewise inspiring.
While Sedaris himself blanches at the idea of being labeled an LGBTQ writer, his pride for who he is finds a way of shining through in his writing. His description of his relationship with his boyfriend Hugh, a frequent character in his essays, has made strides toward normalizing same-sex partnerships since the hashtag was just a pound sign.
Eric Mochnacz: That Kid
We live in an age where cis, white male celebrities publicize their coming out for money, fame, and influencer status. Although it is important that there be representation in professional sports, television and film, and coming out IS difficult for everyone in a heteronormative world… It's a whole helluva lot easier to come out when you have the adoration and support of millions of fans, have a body that meets the RIDICULOUSLY UNREALISTIC gay beauty standards, and you can spend the rest of your days "working" by posting thirst traps with all your other attractive gay friends.
So, my Pride hero is the kid in a small town who chooses to come out when they don't have any of that.
They just want to be themselves and be loved by the people around them.  With no guarantee of a book deal, a TV show, or a verified blue check mark next to their name on social.
Michael Gural-Maiello: The Attitude Era Fans of WWE
Twenty years ago, Billy Gunn and Chuck Palumbo were put together as a storyline gay tag team. The tale culminated in a Billy & Chuck "commitment ceremony" that earned the duo a Pottery Barn gravy boat from a very excited GLAAD. Fans cheered the duo.  Alas, WWE didn't follow through. The commitment ceremony was revealed as a publicity stunt, Billy and Chuck declared they were straight and were then beaten down a pair of giant Samoan wrestlers under the direction of the evil Eric Bischoff, who had been promising fans "Hot Lesbian Actiion" as an alternative. GLAAD was rightly mad at being duped by a cynical wrestling promoter. But what gets lost is that wrestling fans in 2000 accepted and cheered the idea of same sex marriage at a time when mainstream Democratic politicians including Barack Obama would either duck the issue or defend "traditional marriage" for another decade.
Sheeva Azma: Alan Turing & Sally Ride
Two of my Pride heroes in STEM are Alan Turing and Sally Ride. Sadly, my biggest Pride heroes faced so much backlash for just being who they were. Alan Turing, the father of the computer, is one of my biggest Pride heroes. He basically invented artificial intelligence, which we use every day in our lives in a multitude of ways. While Turing helped the United States beat the Axis in World War II, he was also persecuted for being gay.
NASA astronaut Sally Ride has always been one of my heroes. She was the first American woman in space. It's sad that she was unable to come out during her life; her obituary outed her by mentioning her long-time partner, who was a woman.
I hope that as a society, we can get to a place where people don't have to hide their real, amazing selves to be accepted.
Sarah Razner: Anderson Cooper
My pride hero is the one, the only: Anderson Cooper. There are so many things I admire about him: his skills as a journalist; his empathy; his friendship with Andy Cohen; his kiddish, contagious giggle; and how he has handled the trials of his life.
While he was born into a life of privilege as the son of Gloria Vanderbilt, that did not mean he was shielded from heartache or tragedy. As a child, his dad unexpectedly passed away, and Cooper said he felt as though it was his job to take on his dad's role and began applying for modeling jobs to earn money. Not many years later, he lost his brother to suicide and with his mom learned to navigate the hole his brother's absence created.
With the death of Gloria Vanderbilt, he shared his grief with his viewers, having moving conversations with people like Stephen Colbert that also produced moments of hope for those in the darkness of loss. Through this, he won numerous awards for his reporting, started a family, and became a role model for those standing in similar shoes when he came out as gay in 2012, becoming the first openly gay journalist to moderate a presidential debate in 2016. While he faced bigotry, he also showed what is possible in spite of it.
N. Alysha Lewis: Rebecca Sugar, Noelle Stevenson, and V.E. Schwab
Unsurprisingly, my Pride heroes are creative types: Rebecca Sugar, Noelle Stevenson, and V.E. Schwab.
Rebecca Sugar because, as the creator of Stephen Universe, she brought so many queer stories to the forefront of children's animated television; one of the show's main characters was actually two women in a committed relationship (which makes sense if you know the show).
Noelle Stevenson because she infuses queerness into all of her work AND spearheaded the queer-af She-Ra reboot.
Finally, V.E. Schwab because, like Stevenson, she infuses her queerness into her stories, not just in characters' expressed sexuality but in the way they live as their whole selves.
Marybeth McDonough: Hannah Gadsby
I really love to laugh more than anything, so my pride hero is Hannah Gadsby. She can blink or emphasize the right syllable in a deadpan delivery and I absolutely lose it. Yet when I watched Nanette for the first time, I got more than laughs. I saw the persona and the person, all jokes aside.
In that revolutionary show, Gadsby addressed her trauma in between the hilarity; who thought that was possible? The Miracles once sang famously about the "Tears of a Clown," but Gadsby brought those lyrics to fruition. She was an outcast, beaten and humiliated just for being who she is. Not only did she survive, Gadsby lived to tell the tale, and not as a cocktail party punchline: She got up on stage, told a bunch of strangers about it, and then collected a big ass Netflix check before doing it all over again.
Hannah, if I ever get to meet you, I apologize in advance for the hug.