We asked our writers and readers alike, What is your favorite holiday movie and why? Here's 24-hours worth of recommendations to take you from Christmas Eve into Christmas Day.
Home Alone, nominated by Jennifer Racusin
The best movie for Winter Holiday Season 2019 is Home Alone. It's not the best holiday movie of all time. Obviously that's Scrooged. But this is 2019 bitches, and what we really need to do is let go of our differences and laugh. I mean, is Joe Pesci getting fucked up by Macaulay Culkin ever not going to be funny? I don't think so. Blow torches to the head are hilarious. Paint can to the face? Comedy gold. There's a reason slapstick comedy has been around about as long as people and it's because that shit is going to make you laugh until you cry. Besides, who among us hasn't felt like the misunderstood kid forgotten by his family? Who doesn't want to feel empowered and learn how to be self-sufficient by taking out bad guys in the most hilarious way possible? Use your Disney+ subscription for something other than The Mandelorian. Put on Home Alone and laugh until you pee your pants this Christmas. You won't regret it.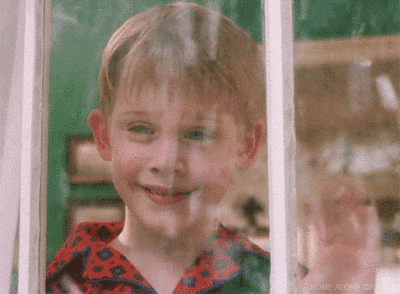 Santa Claus, nominated by Andie Browne
With nothing but reboots and sequels on our cinematic horizons, we must look to the past for the most inspiring of holiday tales. How can anything compete with the great—albeit lesser known—classic, Santa Claus (1959)? A devil named Pitch rises to challenge our beloved Father Christmas, who must turn to partner up with Merlin the wizard to conquer the day. The day in question is Christmas Eve, which is the only night Santa can float down to Earth using a magic parasol in his mission to bring children their deepest desires. Whether it is an underprivileged girl yearning for a doll or a rich boy who wants something more meaningful than toys, Santa refuses to let the devil stop him. It is the magic of Christmas. Beat that.
Rudolph the Red Nosed Reindeer, nominated by Jesse Stone
Favorite holiday movie would have to be Rudolph the Red Nosed Reindeer. You know, the claymation film that features an elf who wants to be a dentist, a bunch of misfit toys, and Burl Ives as a snowman. Why? Because that's what was on TV when I was growing up in the 80s. Does there need to be another reason? It's like asking why my first cassette tape was Poison or why I had M.A.S.K. action figures. Because that's what was on offer. If Stranger Things or Ready Player One have taught me anything, it's that "being from the 80s" is really all you need to be entertained.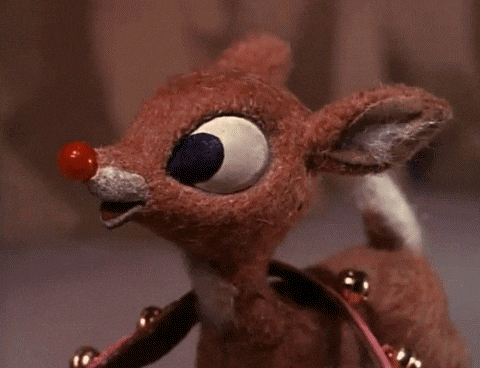 Santa Claus Is Comin' to Town, nominated by Erin Vail
My favorite holiday movie is Santa Claus Is Comin' to Town. It's a stop motion children's movie fun for all ages, and is basically the blueprint from which Marvel stole to create their standalone hero stories.*
*OK, maybe not. But SCICTT is an amazing hero's origin story** that's filled with wall-to-wall bops, like "One Foot in Front of the Other," "The First Toymakers," and the eponymous "Santa Claus is Comin' to Town." Learn how Kris Kringle grew from town do-gooder and light lawbreaker to the Man with the Bag! See Kris and Jessica's (the future Mrs. Claus) Meet-Cute! Squeal with delight over Topper, Santa's penguin sidekick who has been erased from all other Santa stories! It's the best, and when it's on TV, it's only an hour. Who has time for more than that these days?
**On that note…
Iron Man 3, nominated by N. Alysha Lewis
I recently saw an article saying that Iron Man 3 is as much of a Christmas movie as Die Hard, and this is something I will forever stan. It's my favorite movie in the trilogy of my favorite Avenger, and I will take any excuse to watch it that I am given. Plus it contains one of the best gifts of all: unexpected Adam Pally. Which was obviously only truly unexpected the first time I saw the movie, but I always forget it until his scene comes on, and then I get to be excited all over again! I'll sign off with a sentiment derived exactly from the movie: "May all your Christmases be white and preferably bereft of murderers who perform illegal experiments on your loved ones!"
Babes in Toyland, nominated by Jaci413
1986's Babes in Toyland featuring Drew Barrymore, Keanu Reeves, and taken from us too soon treasure Richard Mulligan. It's funny, scary, sad, whimsical—but most importantly it's Keanu Freaking Reeves in a nursery rhyme holiday fantasy land.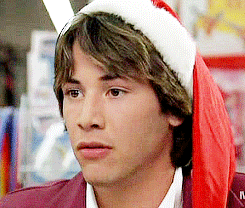 The Holiday, nominated by Thomas Viehe
What makes the holiday season better than snow and Santa? Yes, you guessed it: The Holiday. Ever want to run away from the horrors of shopping and family? Well, guess what?! Two of the most beautiful actresses in the world get to do it in a romantic comedy for the ages! Both lovelorn ladies discover 2006's version of Airbnb… basically Craigslist but where you have to swap abodes. Unwittingly, each find themselves charmed by local lads. We get the expected and charming Jude Law and the unfortunate and miscast Jack Black. Tell me, why does Jack Black get to woo Kate Winslet this whole movie?! Were there an absence or realistically attractive but sensible Americans to put opposite the greatest British actress of her generation? (There weren't.) Was I out of town when they were casting? (I was.) Maybe forgot to answer my phone? (I have the missed calls to prove it.) This movie is an affront to everything that is good and right with the world and I must watch it right this instant! Oh, poor Kate!
Claymation Christmas, nominated by Dennis William
The thing that I absolutely, will-throw-a-tantrum-otherwise, must watch every Christmas is Will Vinton's Claymation Christmas special. I'm sure I've mentioned it on The Prompt before; I love it that much. You get to sing along while watching fun vignettes of things like ice skating walruses. It features the best version of "Carol of the Bells" known to all of Christendom. The running gag of the dinosaur hosts correcting various creatures misunderstanding the words to "Here We Come A' Wassailing" always makes me smile.
Also, it's short. You can use it as a palate cleanser between feature length standards, like Elf and Christmas Vacation, or have it as background music. I recommend this jazzy take on "We Three Kings."
White Christmas, nominated by Katie Novotny
White Christmas, duh.
Bing Crosby, Danny Kaye, Rosemary Clooney, and Vera Ellen are an unstoppable duo of duos. Bing and Danny show us the OG bromance. Vera and Rosemary show us the true meaning of sisters. And obviously the boys fall in love with the girls and the girls fall in love with the boys. Not to mention the boys use their PLATFORM to get an old veteran commander the Christmas Eve of a lifetime that always makes me cry. There's singing. There's dancing. There's a song about freaking snow. All those things might make some people run for the hills, but not this Christmas Head™️.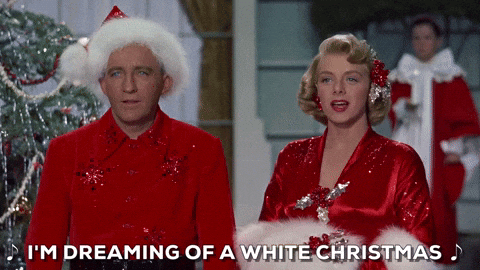 Uh, pass? by John Papageorgiou
What's that? You want to know my favorite holiday album? Good, because I don't have a favorite holiday movie, but a favorite holiday album is easy. Would have been in a real bind otherwise!
Elvis's Christmas Album. I purchased it maybe five years ago, and I play it for the entirety of December on a nonstop loop like a weapon of psychological torture. "Blue Christmas" is an all-timer, and the soaring spiritual "I Believe" is enough to make my godless heart wish that, well, I believed.
The Polar Express, nominated by Sarah Razner
This is a hard one. Typically I have a trifecta of Christmas movies I simply cannot miss: It's a Wonderful Life, Four Christmases, and The Polar Express. But, if I have to only pick one, I'd go with The Polar Express. Why you ask? Well, it's another trio of reasons. First off, it has Tom Hanks. Not only is he my favorite actor, but his movies make me feel. If I tracked my movie watching, I'm sure I could prove at least 75% of the time I watch a Tom Hanks film, my eyes will well with tears. Second, it captures a boy on the cusp of losing that childhood magic and how he reclaims it (while others lose it as they age). In this world, I think we could all stand to regain some of that magic. Thirdly, the movie is about goodness. Yes, children are piling into a train to see the man who gives them gifts, but along the way, they help each other and form bonds despite differences in circumstances. It just fills my heart with joy.

Home for the Holidays, nominated by Judi Cutrone
Home for the Holidays with Holly Hunter and Robert Downey Jr. I love that it's focused on Thanksgiving instead of Christmas and it perfectly encapsulates the bittersweet mania of going home. It's funny and weird and dark and dripping with love that feels real.
Christmas Vacation, nominated by Sydney Mineer
My family and I have watched National Lampoon's Christmas Vacation almost every Christmas Eve for many years. Not only has it never gotten old, but I feel cheated if we miss a Christmas watching it. It's worked its way into our family lexicon. When my mom asks me a question, I often respond, "I don't know, Margo." Whenever we see an over-the-top lights display or a too large tree strapped to the roof of a car, we say "Look, it's the Griswolds!" My brother and my relationship is inevitably compared to Russ and Audrey, whose exchange with her grandfather inevitably gets a huge chuckle:
Audrey: "He worked hard, grandpa."
Grandpa: "So do washing machines."
And I ask you, what is funnier than Randy Quaid in a bathrobe, in the snow, dumping human waste into a sewer with the explanation, "The shitter was full!"
Ah, extended family and the holidays—what a comedy goldmine!