An earworm is that song that just won't quit. But what about an earworm that—gasp!—helps you remember information??! We've compiled a list of the top phone numbers that have been burned into our brains thanks to very effective jingles. We apologize in advance.
Scott Snowman
800-588-2300 Empire (Today)
Don't sleep on the remix!
Dennis William
Empire and
🎵 842-1212
Call us now
Pizza Shuttle
For fast and free delivery
Pizza the way it's supposed to be
Call us now Pizza Shuttle 🎵
Josh Bard
1-800-54-Giant (who ya gonna call when your windshields busted?)
Warning: you WILL NOT get this out of your head
Kelaine Conochan
1-800-MATTRES (And leave off the last S for savings!) 🎶
1-800-99-JENNY (Jenny Craig)
Shalen Lowell
877-CASH NOW. Calllllll JG Wentworth, it's my money and I need it now!!
(but seriously pls give me money for student loan payments, thnx 🤑)
Jillian Conochan
DJ Jazzy Jeff and the Fresh Prince's 1-900-909-JEFF
Dial 1-800-CALL-ATT for collect calls!
Kimberly Lee
777-9311, by Morris Day and the Time (who also sing "Gigolos Get Lonely Too")
Billy Hafferty
🎵 JENNY I GOT YOUR NUMBER! I'M GONNA MAKE YOU MIiiiieeiiinnneee!
867-5309 🎵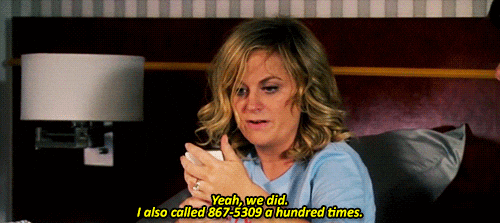 Zach Straus
(785) 842-1212 (Pizza Shuttle – Lawrence, Kansas)
1-800-LAW-1222 (Rob "The Heavy Hitter" Levine – Providence, Rhode Island)
Angel Bolivar
1-877-Kars4Kids (otherwise known as the worst thing I've ever heard in my life and a harbinger of the apocalypse)
WHATEVER YOU DO, DO NOT CLICK
What do you think of our list? We admit it's Incomplete, but welcome your ideas so it can continue Growing. @ us on Twitter or Facebook with your jingliest phone numbers!