With sports fans looking longingly, if not bleary-eyed, at actual KBO games that count, and Major League Baseball commissioner Rob Manfred wondering why his labor force (that he believes doesn't deserve a bigger cut of the profits) isn't more marketable, fans of the MLB are asking "When will it be our turn?"
Josh Bard and I are here to discuss various aspects of what the 2020 MLB season could look like, what degree of haughtiness should we dismiss its champion, and how it will change the game. 
---
Always Look on the Bright Side of Life
Dennis William:
I wanted to start with something positive. I follow a lot of people on Instagram who have completed a weekend course on self-care at the learning annex, and they say that finding moments of joy is important during quarantine.
So, which team has the best silver lining from this postponed season? Is it the Houston Astros, who may as well dressed as Snidely Whiplash all season, who will either be playing in front of no fans, or fans who have had months to gain some perspective on life? Or is it the Boston Red Sox, who basically get to warp past a season when they could have had Mookie Betts but don't.
I have to think it's Boston. Once fans are back at games, they will remember the Astros are documented scumbags and that booing—good natured booing, please don't pop a blood vessel—is part of the fan experience. They'll get theirs. Boston's punishment for trading Mookie was playing games in which their team was painful to watch, but those are just not happening. What do you think, JAHsh BAHd?
Josh Bard:
I see what you've done here, sending a warning shot across the bow to start. You may be right that the Red Sox get a major pass because instead of the team's owners bathing in fans' indignant frustration all season (did you hear the Sox fans sometimes let their opinions out?), they never have to face that music. Though they would probably have drowned it out with another rousing rendition of Sweet Caroline. BAH BAH BAH.
But clearly, the Astros win this quarantine. We move farther and farther from the stink of their cheating, their sort of penalty, and the total lack of remorse and human decency. Playing without opposing fans is the greatest gift you can give to a certified public enemy.
Is this season even really a season if it's a half season?
Josh:
If we're gonna do it, let's do it. No asterisk. No whining. This is the best baseball we can do. I don't see any reason to stamp it with some kind of "defected" label.
Dennis:
Putting an actual asterisk on the season would be pointless. People will make their own qualifications and time will weed out the idea that this season wouldn't count. When people talk about the seasons played during World War II or before integration, they acknowledge the circumstances of the time, but no one contends that they somehow don't count. But if that's a concern, why not lean into the strangeness of these circumstances. Instead of trying to play a mini-season in service of some notion of "legitimacy," be creative and do something fun and different. In 50 years, people will be smart enough to acknowledge the reality of the circumstances. Hopefully.
With the NHL, NBA, MLS, and NSWL all slated for "bubble sites," are you surprised that baseball seems to be the one league that isn't afraid of its players traveling?
Josh:
This makes no sense to me. MLB is set up almost too perfectly for playing in one or two locations. Why aren't teams being bunks at their minor league sites and playing games in Arizona or Florida? While home stadiums, even while empty, give home teams advantages, why would the league and the players want to subject themselves to any more moving about this petri dish of a country than they have to? While Florida and Arizona (the Florida of the Southwest!) have myriad flaws, they also have lots of ballparks and facilities that are satisfactory.
Dennis:
I've never been to Arizona, but I hear it's not a great place to be standing outside in the summer. If you do a bubble site, which they absolutely should, domed stadiums seems the way to go. Weather delays and rainouts aren't something MLB will want to deal with during a shortened season. Florida, in general, should be avoided, but teams traveling around the country defeats the purpose of any other safety measures. Could the Blue Jays even host games, since they're in a country that isn't handling the pandemic like Kevin with a pot of chili?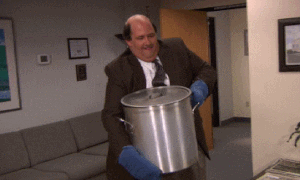 Clearly we're desperate for baseball. What would be a bridge too far for you, to get this season going?
Dennis:
I'm all for creative solutions and shaking things up. I'm not worried that we'll never have a full-length season again, so I don't need a miniature version of it. I'd take a Round Robin. I'd take huge rosters. I'd take a lottery to assign divisions. What I wouldn't take is the players getting jobbed by owners on safety and salary (which, according to recent news, is what owners want). I'm a union member, and I won't stand quietly while my brethren, like Michael Nelson Trout and Starling Javier Marte, are bullied by the corporate fat cats.
Josh:
I would not sign up to see baseball in a round robin or tournament fashion. The game isn't like the others and I think you need to have a minimum of 70 games to establish who is good, and who are the Royals (two can play at this game!). I don't mind small rule changes like the universal DH or even adding ties, if games aren't settled after 12 innings. Even though I previously said that I think this season counts as a full season, no matter what, I wouldn't be opposed to testing those kinds of small tweaks. Baseball still needs to find a way to be more appealing to the masses.
What would be worse: This season leading to a Yankees/Cardinals championship or universal DH?
Dennis:
We started positive, let's end negative. Even though I have publicly denounced the bland homogeneity that would be universal DH, I know it's coming. Might as well be now. The Yankees or Cardinals winning would be the biggest bummer. Mostly the Cardinals, since Yankees of recent years have been fun teams. Anything that adds to St. Louis fans' delusion that they are somehow on the same level historically as the Yankees would be tragic.
Josh:
I don't want this to come across as hyperbole, but I would give up this season and the next three to keep the Yankees and Cardinals from winning a World Series. I would also rather see batting orders of nine DHs before seeing a Yankees and Cardinals World Series. But if really pressed on this one, I would rather see a 2020 Yankees World Series championship party at a Biden White House than a Red Sox World Series championship party and a re-election.
Okay, last one! Will we see baseball this season and if so, who do you think is in the best position to win?
Josh:
In the end, I think there is baseball. In our lifetimes, the owners' groups have always gotten the players' unions to fold, when it gets down to the nitty gritty. If it weren't 2020 and we didn't live in the upside down, the Dodgers would win the World Series. Giving that deep team an extra batter, with the DH, is perilous for everyone else. But since it's 2020 and everything is the worst version of itself, I assume the Yankees will sweep the Cardinals in 11 games.
Dennis:
I like that between the Yankees and Cardinals, we have different least favorites. Truly, familiarity breeds contempt. I agree that the Dodgers are the smart bet. The fact that they haven't won recently feels like an obvious fluke. THEY'RE DUE. But in the interest of diversifying our portfolio, I will select my adopted NL backup team, the Washington Nationals to repeat. They've got the Soto Shuffle and Max "Crazy Eyes" Scherzer. They're adding Eric Thames and replacing Anthony Rendon with a First-Team-All-Sports-Name contender, Carter Kieboom. I don't have a good way to wrap this up. Baby shark doodoo da doodoodoo…