Look, it's no secret that I love television. We live in an era of #peaktv, and I feel pretty #blessed to be overloaded with #content than to be living way back in the day when there were only three channels. Unfortunately, genres like dystopian sci-fi have become all too real in our current political climate. TV is for escapism, sure, but who wants to escape to a zombie apocalypse or a patriarchal, totalitarian society when Trump is president and our nightmares have become a reality?
If you're feeling too bugged out by your push notifications, or maybe don't want to watch Russian agents totally fucking with our government while there's so much of the real stuff on the news, here are some options for comfort watching in 2017.
Cheers
I mean, it says it right in the theme song: sometimes you wanna go where everybody knows your name. If you want to know what it feels like to travel through time, look no further than one of the greatest sitcoms of all time. Travel back to an era where people actually talked to each other in bars, instead of staring at their phones, reacting to the latest Congressional blowup, and/or trying to Instagram the twinkly lights. Return to the age of people meeting organically, to when Boston was still actually a sports underdog, and to the age of Hot Ted Danson Wearing Rugbys.
Cheers is one of the funniest, most well-written comedies ever made, and it's long running: a whopping ELEVEN seasons. Even after 24 years off-air, the jokes and characters still hold up.
And even when Cliff puts down his final pint glass, you still have Frasier to jump into. So, instead of raising your heart rate by turning back on the news, jump into some sweats and grab a big ol' stein of beer. The bar may not literally call your name (just Norm's), but you'll feel like a part of the gang in no time, and maybe stop thinking about the potential consequences of a trade war with China.
Parks and Recreation
When Parks and Rec aired, the show was a silly, self-contained, heartfelt story about a parks department of Pawnee, Indiana, a town that's first in friendship, fourth in obesity. What was once a light look into the monotony of local governments has now been transformed into a utopian fantasy, thanks to the Trump administration.
Remember those charming days when Leslie Knope's go-getter attitude clashed with Ron Swanson's stubbornness and disdain for the government? Well, that's adorable. Because Steven Bannon actually exists and could never pull off this hat.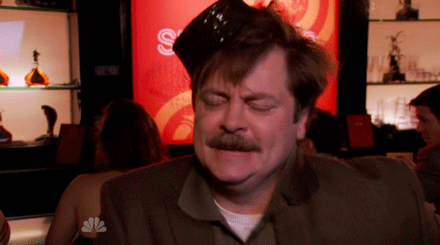 Also, the problems of Pawnee seem so self-contained and solvable compared to today's political crises. A stray possum on a golf course? Sure! A harvest festival requiring the cooperation of hundreds of businesses? Easy! North Korea and the South China Sea? No thanks. Parks and Rec is also full of sight gags, callbacks, goofball characters and so much heart. You want to believe Leslie, Ben, Ann and the gang can fix everything. If only they could fix 2017.
The Newsroom
This is a divisive pick, since there is a lot wrong with this show. And The Newsroom might not be all that comforting, since watching in 2017 reveals some of the structural and societal foreshadowing to #election2016. But at least in the fictitious, revisionist version of Aaron Sorkin's late 2000s, someone was doing the news right. At least Will McAvoy had some damn integrity.
The Newsroom makes me feel warm in my belly (why???) as someone who gets a cheap thrill from such tropes as will they/won't they romances (see: Cheers, above), time lapse montages, and heated discussions about journalism ethics.
The Newsroom, like Parks and Rec, allows you to believe that people want to do the right thing, and are inherently good (except for Jerry Dantana). This mindset has seemingly evaporated in the past few months.
Where has the goodwill gone? (And also, the good Will?) Despite the mistakes the ACN team made, they always wanted to be the best, be fair, and do what was best for the greater good. People are divided over Aaron Sorkin, but I will always say "Yes, more please" and feel better watching his greatest hits.
The OC
This may be just me, yearning for a time when life was simpler—when all I worried about was how if Teresa's baby was actually Ryan's, how Marissa was going to recover from shooting Trey, and if anyone in the world had better brows than Sandy Cohen. (The answer to that last one is no.)
The OC, like the other shows on the list, is a fantasy: an outsider being welcomed into a loving circle of family and friends, leaving his less fortunate circumstances behind for a better life. Plus—all the pop culture references, chardonnay loving, and a plethora of fancy parties to dream about: This is the true American dream (minus Caleb Nichol). What I wouldn't give to leave this dystopian hellscape behind and return to the sunny town of Newport for some bagels at the Cohen house.
And The OC was destined for success from its opening credits. I remember disturbing the peace in my quiet Pennsylvania town, belting out "CALIFORNIAAAA, HERE WE COOOOME!" as its iconic theme song played every week and across every pop radio station. Now I live in California, an escape from my quiet Pennsylvania town. What a weird world.
Alas, TV cannot solve the problems of American and global politics, nor can they make them go away. But, if you want to just tune out of reality for a bit, take a deep breath, regain your sanity, and escape to a brighter TV landscape.
---
All posts in The Prompt's #ComfortZone series are brought to you by our rad friends at 

Like what you read here? Tweet us or comment on our Facebook page!