Welcome to The Prompt's own weekly NFL Power Rankings, where we rank all of the things that matter. We apologize in advance for any jokes that offend your sensibility or analysis that offends your favorite team. 
Mike Stiriti is off this week, so Josh Bard is subbing in.
---
1. Next Man Up
Just like The Prompt's Power Rankings staff, the NFL lost a lot of star power this weekend. It often looked like the opening scene of Saving Private Ryan out there, except that the military never paid Steven Spielberg to showcase its brave men and women. I digress…
All-world running backs Saquon Barkley and Christian McCaffrey went down with injuries. As did quarterbacks Jimmy Garoppolo and Drew Lock. Aaaaand defensive stars Nick Bosa and Bruce Irvin. Some are blaming the lack of a preseason, others bad field conditions, and the logical majority of us realizing the injuries are due to football being a blood-thirsty gladiator sport. Ooooh, did your fantasy team win this week?
2. Regular Season Ravens
Another win getting them closer to the place where they can't win! You know what's fun about running roughshod over league during the regular season? Nothing, when you lose your first playoff game again! Now do us a favor and pose for another team photo after an interception while you're up by 25…
3. Kansas City Chiefs
Did you know Patrick Mahomes and the Chiefs have won six straight games when they've trailed by double digits? Yikes. On Sunday the comeback win showcased their kicker, who hit three straight FGs from 53, 58, and 58 yards. And while squeaking by a rookie QB might not be a cause for concern, at least Andy Reid can say he never saw it coming.
4. NFC West
This division is 7-1, and only lost that one game because they faced someone inside the division. The Rams, Seahawks, Cardinals, and 49ers could all do in one year what the Browns haven't done in 17: make the playoffs.
5. Kyler Murray
Last year's No. 1 pick is the league's newest superstar, drawing comparisons to Lamar Jackson and Patrick Mahomes and Russell Wilson and probably other Black quarterbacks too.
6. Onside Kick Innovations
I may not have Mike's unequivocal love for bad (read: good) MS Paint masterpieces, but I sure as hell can get to that level for onside kick ingenuity! Thanks to Cowboys kicker Greg Zuerlein's watermelon kick, we have reason to celebrate. Zuerlein kicked a sidewise-lying ball (like a watermelon!) on one end and created a spinning top whirling towards the Falcons, who made a mess of the watermelon like they were 1980s Gallagher.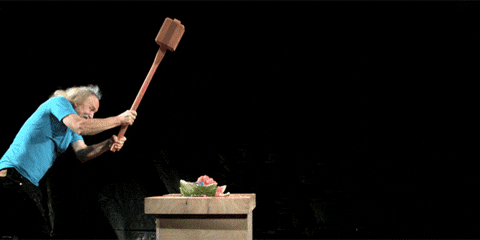 7. Time
OOOOH, SO META! They say Father Time is undefeated, and right now he's got Tom Brady and Drew Brees in a double headlock, waiting for one of them to scream "uncle." Meanwhile Aaron Rodgers watches and laughs… at the idea that they'd spend time with fathers and uncles at all.
8. Cam Newton
The Patriots' new, athletic, personable, science-believing, long haired quarterback was ONE yard short of an incredible comeback win in Seattle AND skyrocketing to the top of the Power Rankings. Newton was responsible for 444 of the Patriots 464 yards against the Seahawks. Wherever Mike is this week, he's probably sitting down or has a sweater tied around his waist.
A live look at Mike Stiriti this week
9. Ending Racism
Whoever said the NFL couldn't do what decades and centuries of Civil Rights activists have tried? Who knew that writing "End Racism" in one end zone was all it would take? Congrats to Black people everywhere for their well-deserved equality, and thanks to the hardworking (and undoubtedly diverse!) corporate executives of the NFL for their tireless work!
10. Baker Mayfield
By beating Joe Burrow and the Bengals last Thursday, Mayfield defends his "Best Quarterback in Ohio" award, which is the football equivalent of being named the Sexiest Supreme Court Justice now that we lost RBG. He will maintain BQOB until the weekend of October 24th when the Bengals-Browns rematch occurs, and when Justin Fields and Ohio State return to the field.
---
Also Receiving Votes: Russell Wilson, The Bills's JV Schedule, The Raiders Bandwagon, Aaron Jones Fantasy Owners, MetLife Field Turf, Gronk's Return!! to the WWE, Stephen Gostkowski's Psychiatrist, Viking Funerals for the Vikings, Tua's Fresh Legs, and Unofficial Yellow First Down Lines Everywhere.