After three rounds and over a month, the NBA Finals start tonight! The Prompt staff gives their take on what they liked about the NBA Playoffs and give a brief preview of what to expect from this year's edition of the NBA Finals.
---
1. How have this year's playoffs compared to previous years?
Thomas Viehe: These playoffs have been great. Even the uncompetitive series were fun. Remember Thunder/Blazers? We got to watch the cocksure, trash-talking OKC of Game 3 evaporate with Logo Lillard's series sealing two-steps-inside-half-court three in Game 5.
Josh Bard: This year's playoffs have been pretty good. While the first round was an absolute snore, it always is, so that didn't matter. The second round gave us Warriors/Rockets, which was great, Nuggets/Blazers, which came down to the 4th quarter of Game 7, and 76ers/Raptors which somehow came down to 2 seconds after the final horn of Game 7.
Kelaine Conochan: In the West, it feels exactly the same. The Warriors made it to the Finals. Yawwwwn. But in the East, things are ironically much more exciting without LeBron James. The Celtics looked indomitable after Game 1 against the Bucks, who then systematically dismantled them to take the series. In Game 7 of the Raptors-76ers series, we witnessed the only winner-take-all buzzer-beater in NBA history. And though everyone seemed to think the Bucks were destined for the Finals, the Raptors sent them back to Milwaukee. Honestly, I'm exhausted.
Gavin Lippman: These playoffs have been steadily getting better. Round 1 was definitely a snooze fest. Round 2  gave us Giannis single handedly destroying the Celtics, the Warriors getting punched in the mouth by the Rockets and responding like the champions they are and two great Game 7's, capped off by an all time buzzer beater by Kawhi Leonard to eliminate the Sixers. While the Warriors swept the Blazers in the conference finals, the chess match that was the Bucks / Raptors series more than made up for it. I'm ready for the finals.
Jake Cantrell: It felt like a changing of the guard, and it's been nice to see some new teams in the mix. It's like we've been trusting the process for so long with not just Philly but the Blazers and all these young teams and so it felt like a lot of teams grew up this year. Having it come down to the Raptors, 76ers and Bucks in the East felt really weird and really good. And even making them play the Warriors feels good, because it's like they worked up to the boss level of the game now, so you want it to be hard (but please don't sweep them).
2. Who's the biggest winner of the NBA Playoffs (gif and explanation, please)?
Thomas: Giannis is my 2019 NBA Playoff MVP. Look at the sheer emotion in that lemon face. I'm using this the next time my boss messages me to say "Good job on that TPS report" or "Could you work late this weekend" or "I'm sorry, I didn't mean to interrupt you." Even if he disappeared in the Conference Finals, he was a wrecking ball through the East, announcing to the world (who don't pay attention to the regular season) that he is the next NBA Superstar.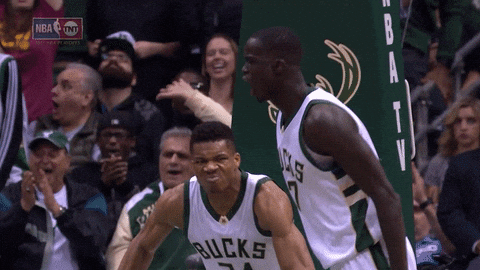 Josh: For me, the biggest winner of the playoffs have been the Splash Brothers. Whether or not there is actually any below-the-surface tension between Klay Thompson/Steph Curry and third wheel Kevin Durant, the shine of two of the best shooters in NBA history wears off when you add one of the best players in the league. Without KD the last series, Steph and Klay have reminded us all of their all-timeyness. And in four to five games, they'll have a fourth ring.
Kelaine: Guys, are you kidding me? It's Kawhi Leonard. There's no question. The Game 7 buzzer beater OVER Joel Embiid, who has 5 inches on him. The relentless defense against Giannis, who has 4 inches and 15 pounds on him. The handles. The awkward post-game interviews. The fact that he's on his way to the Finals with a new team, in a new country, and three new emotions!
Gavin:
The biggest winner of the post-season is Damian Lillard. In a guard-heavy league, Dame tends to get overlooked playing in the small market of Portland, a victim of West Coast bias. He had the most to prove this post-season after the Blazers were swept out of the playoffs by the lower seeded Pelicans last year. The Thunder mocked Lillard and his "Dame Time" celebration, but Lillard left no doubt who the best player was in the series, and let the scoreboard determine the winner in his personal beef with Russell Westbrook. He drained a 40 foot buzzer beater to close out the series in Game 5, capping off a 50-point performance. The night before eliminating the Thunder, Lillard said "I'm getting rid of these mother******** tomorrow." Now everyone around the world knows what Dame Time is.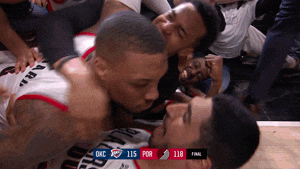 Jake: Last name: Ever, First name: Greatest. When it comes to sports Drake's known as the ultimate bandwagoner and usually a curse. So to overcome all of that adversity and lead his one true, non-bandwagoning team, the team he started from the bottom with, from 0 to 100 in the biggest moment has us all in our feelings. I mean Kawhi helped—he's the Best They've Ever Had,—but we know it was Drake that got them to the One Dance. But now is when they'll need him the most. The Warriors are a really big team with some really big rings so if Drake isn't on his Worst Behavior then all of Rap Nation will be Upset.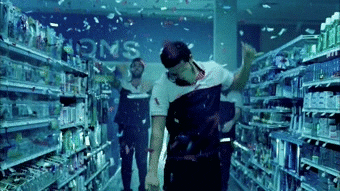 3. Who's the biggest loser of the NBA Playoffs (gif and explanation, please)?
Thomas: Where is LeBron? The beach? A banana boat? At some school getting challenged to a three-point shooting contest? Wherever it is, it's not the Finals. Did we think he'd be in the Finals this year? No. But he did. He even had his lackey agent approach Adam Silver, the NBA Commissioner, at lunch to complain that his coach sucked.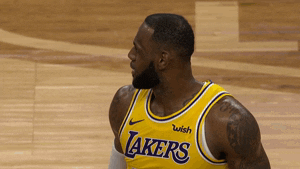 Josh: The Process. Philly's second chance at playoff glory ended a lot like its first: earlier than expected. Even though the 76ers lost on maybe the most miraculous shot in NBA history, Embiid and Simmons were again exposed. Embiid battled stomach ailments and inconsistency, while Ben Simmons still can't score outside of 3 feet. Anyone who still thinks the Sixers are the East's team of the future should go fly a kite in a lightning storm.
Kelaine: I'm really sad to say it, but the Rockets. They made it known that they were gunning for the Warriors. They wanted to take down the dynasty. That was the goal. And, with the series tied 2-2 and Durant hobbling away with a non-contact injury, it seemed like there might be an opening for the Western Conference underdogs. But, woof. Harden was played out of his mind all season and all series, but in the clutch, was anything but. In Game 5, he made just ONE shot in the last 10 minutes, and in Game 6, he had two horrific turnovers in the last 2 minutes. What a total letdown.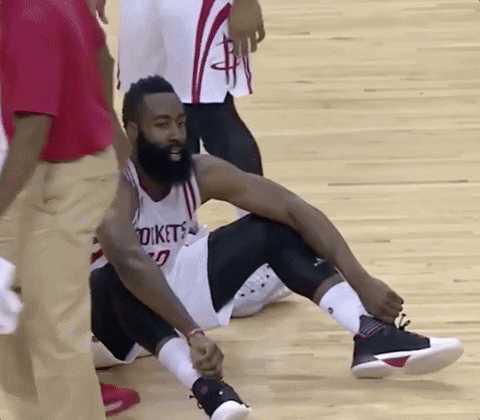 When you come at the king, you best not miss. And y'all, this was a big whiff.
Gavin: The Boston Celtics entered this season with aspirations of winning the Eastern Conference and potentially dethroning the Warriors. After all, a team full of young players and Al Horford took LeBron to seven games in the Eastern Conference Finals last season. Now that Kyrie Irving and Gordon Hayward were back, you would think the Celtics would be better than they were, right? Wrong. The Celtics were fraught with infighting, poor play, and questionable leadership from their best player, Irving. Their Game 1 win over Milwaukee gave Boston fans a glimmer of hope, but Giannis and the Bucks promptly ended any thought of a Boston Slam. Once title contenders, the Celtics now face a uncertain future after such a disappointing season.
Jake: Russell Westbrook was once the guy that seemed to just put up whatever numbers he wanted, whenever he wanted. And although it's unfair to expect Westbrook to carry a team on his own, this year, Lillard pwned him to such a point that I don't know if we'll ever be able to take Westbrook seriously again.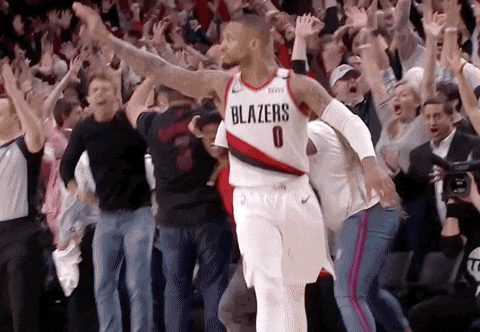 4. Do you buy the hype about this matchup?
Thomas: Buy the hype. For Game 1, at least. The Raptors and Kawhi deserve that. Don't forget that Kawhi was one Zaza Pachulia slide-under closeout from dismantling the 2017 Warriors (and the NBA have not gotten better about policing this foul).
Josh: I don't buy the hype and can't envision this series getting to Game 6 without Kawhi Leonard elevating to another new level. And really, how many more levels are there?
Kelaine: I don't even think there is any hype. Which is why I'll see your hype and raise you a Drizzy.
Gavin: I buy the hype. Kawhi has taken his game to another level and the Raptors can throw some tricky matchups at the Warriors. Outside of an MLS title in 2017, Toronto has not won a major sports title since 1993. The city, the team and the fans will be ready for their shot at a title. The Warriors are four games away from reaching NBA dynasty status. This one will be fun to watch!
Jake: I buy the hype, mostly because of the Raptors' hype man/masseuse. But I'm still buying it. It just feels like there's a chance, however small, that we could see greatness overthrown. America loves a good underdog, and Canada loves everyone so it feels good to love on Canada a little.
5. What will have the biggest impact on the series?
Thomas: Kevin Durant. Hot take alert! Can I get a GIF?!
When KD comes back, he'll be fueled by this "Warriors don't need KD talk." Seriously. Have you seen his online activity lately? This passion will end up undermining the team's chemistry and push the Warriors to win in six games, instead of four or five.
Josh: Since I've already declared the series over, in favor of the Warriors, any X-factor is only the person who makes this a sweep versus a 5-gamer. To me, that comes down to Draymond Green. If he can keep his cool and continue his impact on both ends of the court, the Warriors will romp.
Gavin: Home-court. As I mentioned earlier, the entire city of Toronto will be hyped up for the Raptors first finals appearance. The Warriors will also be playing their last 2-3 games at Oracle Arena before they move to the Chase Center in San Francisco. It's going to be tough to win on the road in the Finals, so protecting home court will be key.
Jake: The anthems: In a series where the Raptors are going to need every lucky break, and then a lot more stuff, the extra rest provided by a second national anthem in every pregame will definitely help the team that just went through a 7-game series and a 6-game series with several overtimes thrown in along the way.
6. Who has the edge going into Thursday's Game 1?
Thomas: Raptors. I can feel my confidence in their ability to win one game. Plus they don't have JR Smith to ruin things.
No, I'm still not over that.
Josh: If the Raptors are going to win a game, it needs to be this first one in Toronto. They'll have an incredible crowd, no threat from Durant, and possibly an overconfident dynasty crossing the border to get there.
Kelaine: Honestly, Canada is hot right now. They have single-payer healthcare. Their president's only scandals are that he mistreated whistleblowers and ate a chocolate bar in Parliament (he apologized for the latter). And Raptors fans are losing their minds over the team's first appearance in the NBA Finals. So, I'm giving the edge to the home team. They're going to need all the help they can get.
Gavin: The Warriors have the edge, as they are the two-time defending champions playing in the Finals for the fifth consecutive year. They've been here before and they know what to expect.
Jake: I think everyone that doesn't hate Drake is rooting for Toronto right now. With two American teams in the Stanley Cup Finals, the Raptors will get Canada's undivided support along with the support of all in the U.S. who are tired of the Warriors, or KD, or both.
7. Who wins the series and in how many games?
Thomas: Warriors in 5. I tried. I really did. But I don't see it. Sorry, Toronto. I'm rooting for you anyway. Prove me wrong.
Josh: Fun fact, the Raptors won both games this year against the Warriors! Funner fact, the Warriors are actually trying now. They can be down by 15 in the 4th quarter (and they might be!), and I will feel supremely confident that they will come back and win. The Raptors have a lot to be proud of this season, but they are far behind the Warriors talent and experience. And with Oakland's Oracle Arena closing after this series, the Warriors have extra incentive to win at home in Game 4. Warriors in 4.
Kelaine: Warriors in 5. But I'm rooting for a 7-game series because there's no such thing as enough basketball.
Gavin: I'm sure the Raptors will be amped up for the finals and give the Warriors fits with some of their lineup matchups. However, I can't see Toronto winning a game in Oakland and I feel the Warriors know they are four games away from being mentioned in the same breath as legendary dynasties such as the 90s Bulls, the Showtime Lakers, and Duncan's Spurs. Warriors win this in 6, closing out Oracle Arena in style.
Jake: Warriors in 5. As much as it's my thing to take the full-court shot and say Raptors because it'll be impressive if it somehow happens, it would only be my optimism speaking. I feel like Toronto is going to win Game 1, and wake up the Warriors, or just be so overmatched that they steal a game late just to avoid a sweep. Or get swept, unfortunately.
Bonus Question: With Breanna Stewart injured and out of action, who's your early prediction for WNBA MVP?
Thomas: A'ja Wilson. She's young. She's talented. And she's on the eventual champions. Maybe voters will say this Vegas team has too much talent and give it to Brittney Griner.
Josh: Las Vegas Aces have an embarrassment of riches, and I'm betting on the latest addition: Liz Cambage, who they acquired for fifty cents on the dollar. The WNBA may finally be making it in the big time when their players can act like divas and demand trades, just like the male counterparts.
Kelaine: THE WASHINGTON MYSTICS OWN ELENA DELLE DONNE. I'm a homer. She may be injured right now, but for real, last year's runners-up are coming for the title and the MVP trophy.
Jake: I feel like you already know who I'm picking, but… Skylar Diggins-Smith. Not even sure she's back yet, but she has my undying support and now a kid to support. I mean Serena came back from childbirth and won, so maybe there's something to having a kid to support. Either way, Diggins-Smith has my support. Can't emphasize that enough.