Hi. Me here. Your friend. The girl who has loved sports since the moment she picked up a basketball. The one who's not even close to the best baller you know, but still pretty alright. The one who started with a turnover and went 0-5 from the field in her game yesterday, but hey. At least the team got the W.
When I came home and heard the news of Kobe Bryant being tragically killed in a helicopter crash, my heart sank.
Having experienced personal loss, I'm wary of becoming a grief vulture, jumping on these big sweeping social media pain trains, which I typically find disingenuous, gratuitous, and self-indulgent. I didn't know the guy, so who am I to seek solace and comfort from your Twitter fingers?
But still, I couldn't stop thinking of Kobe's daughter Gianna, who had been lighting up social media with her travel team highlight reel. This promising young lady with handles for days, a fadeaway jumper just like her dad, and the Mamba Mentality that is both nature and nurture for her.
Her dad, her mentor, her coach, her biggest fan… gone.
Of course, we all know it was even worse than that. Because about an hour after the Kobe news broke, it was reported and then confirmed that Gigi Bryant was also killed in the crash. The two of them—along with seven others—were on their way to one of her games.
Honestly, I'm gutted.
Gigi was only 13.
Thirteen. Are you kidding me?
I felt attached to Gigi, and was more hurt and shaken by her death than that of her legendary dad. Not just because she was so young. The truth is that I—like anyone who loves hoops—have always respected Kobe's game. But I can't sit here and pretend that he's ever been my role model or favorite player. I still feel an air of skepticism for him, owing to his early and enormous missteps, including a credible sexual assault allegation that I just can't shake. I promise, I'm not here to unpack that baggage here and now, and I feel gross about saying that on the day after the man's tragic demise.
But I believe that—even if it isn't neat—everyone's story should be complete and honest.
People are complex and imperfect, in ways big and small, and that's okay as long as they reckon with their imperfections.
I also believe in forgiveness. And redemption.
And in the end, I believe that Kobe Bryant was worthy of both. And a lot of that stems from how he loved Gigi.
Kobe never seemed disappointed that he didn't have a son. As a human person with equal value to yours, I can't believe that's a thing, but we all know it is. Plenty of men of a certain age can only fathom of their sons carrying on their legacy, particularly in sports. Plenty of dads give their sons baseball mitts and layup lessons while giving their daughters Barbies and detachment issues.
But not Kobe. Kobe believed.
He sat courtside with Gigi at WNBA games, breaking down plays, teaching her what to look for, and truly investing in his daughter's love of the game.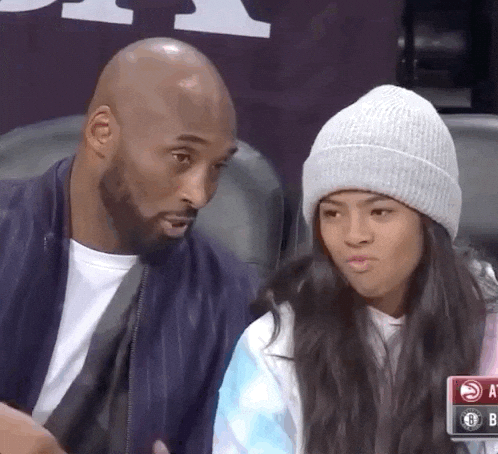 Seeing him later sit at an NBA game with his daughter while wearing a WNBA sweatshirt felt genuine. It wasn't just a statement; he'd actually been there.
Hearing him talk up the stars of the women's game—Elena DelleDonne, Diana Taurasi, and Sabrina Ionescu among them—showed me that Kobe wasn't here just to promote his own game. He wanted what was good for good hoops, no matter who stepped on the court.
Game recognize game, ain't that right?
I'm aware of how I may come off. Sitting here trying to maintain my self-respect, and being grateful for table scraps. It shouldn't feel like some altruistic, charitable gesture that a man who loves basketball would give the women their goddamn propers. But if you've ever surveyed the social media wreckage during a women's basketball game, you know how rare that is. And you know how fucking important it is that people who can be influential, who can use their status to change minds, use their platform for good.
Kobe did that, and not just for Gigi. For all of us who care about the game of basketball.
Kobe put a charge to basketball fans, to pay attention and care about the women's game, to nurture it, just like we do the men's. And that's what we need to do now, for him and Gigi.
We've all got to do our part to grow the game, and to support sports for everyone regardless of gender, race, class, or resources. We owe it to the game to pay for tickets and show up for WNBA games. We need to be as invested in college women's teams as we are in men's teams. And it's 2020, for fuck's sake! There's no reason we can't see as many Sue Bird as Larry Bird jerseys out there.
Part of Kobe's enormous legacy is unfinished, but it's never been more promising.
Watching Gigi and Kobe share basketball moments gave me bigger hope and optimism about the future of the women's game.
She was already somebody. But she was going to be something, too. She was robbed of that opportunity, but we don't have to be robbed of other girls' promise and talent.
So, I'm begging you. Reading this. Caring about Kobe, about Gigi, about basketball, and maybe even about me, your long-lost/long-winded friend. Don't let Kobe's legacy be just what he did on the court. Don't let the promise die.
Don't forget what Kobe wanted for Gigi. Don't forget what he wanted for the game. And don't forget that there are still plenty of girls and women out here who can carry on his legacy too.