You're cruising upward on an escalator (it's not 2020), letting your eyes go slack and drifting into a daydream, when suddenly WORDS in AGGRESSIVE CAPITALIZATION jar you back into reality. What ANNOUNCEMENT is that PIECE OF CLOTH even making?
---
Zach Straus
I'm a FAILED CHILD voice ACTOR
Fueled by HOMEMADE tartar SAUCE
Who REFUSES to APOLOGIZE to
The people I LOVE
Or do LONG DIVISION in MY HEAD
My PRONOUNS are ME / MY / I
Because I AM very SELFISH
CUE MONTAGE of PROOF
And WHEN I DIE from HEART DISEASE
Please DELETE
My SEARCH HISTORY, Beth
Mikael Johnson
I'm a PARALEGAL but with my boss and clients, I'm a quiet maverick genius who dabbles in legal matters but told to "shut the hell up" because I'm terse and caustic even in small talk
My MOM is my BELOVED MAIN CRITIC  &
My WIFE is my LEGAL SPOUSE & MOTHER TO MY CHILD AND AN OUTSTANDING MOTHER & FRIEND
My DAD is my PERFECTLY IMPERFECT HERO &
I drink a F**K TON OF COFFEE
The only "MASK" I wear is my bondage leather hood reserved for Sundays (PHOTO ATTACHED)
"RIGHT, RIGHT" is the impression Prompt writers John Papageorgiou & Eva Krikscuin do of me
I'm REALLY MISSING BASEBALL ON IN THE BACKGROUND DURING SUMMER EVENINGS
I sleep LOUDLY, ALLEGEDLY
Jillian Conochan
I refuse to be PIGEONHOLED into ONE THING
So here's an INCOMPLETE AND GROWING LIST about me:
I am a SALES AND MARKETING PROFESSIONAL
(Is that REDUNDANT?)
I am preferably the SHORTSTOP on my ARC PITCH SOFTBALL TEAM
I am MARRIED to my ROOMMATE and we HAVE A CAT
I am NOT a CAT LADY though so don't send me any TCHOTCHKES
I am the ANTISOCIAL SOCIAL MEDIA MANAGER for this here PUBLICATION
Follow us on TWITTER and INSTAGRAM
I am a SKINCARE JUNKIE, which I realize is a term that will soon be CANCELED
Incidentally, are ANY of these PLACES
HIRING?
Erin Vail
I'm a PODCAST PRODUCER
GEMINI
OLDEST SIBLING
I assume EVERYONE is MAD AT ME, ALWAYS
I love SPORTS and STAR WARS
I won't shut up about MEMES and MY FAMILY
I'd rather be EATING PIZZA AND WINGS
I'm the MOM friend and will ALWAYS take care of you
But if you CROSS me, I'll talk about you BEHIND YOUR BACK and NEVER CONFRONT YOU
Scott Snowman
I am A CONFLUENCE OF ATOMS that got consciousness SOMEHOW
If you cross me, SHAME on me for LETTING you get close enough that I EVEN CARE
If you don't WATCH YOURSELF I will probably SPEAK ILL OF YOU using VOCABULARY you probably WOULDN'T UNDERSTAND
When I BURP it tastes like CYNICISM and SODA
I've BEEN TOLD that I'm a SURPRISE PERSON but also separately that MY VOICE is LIKE A KNIFE
SOMEONE made fun of me for SINGING and DANCING so now I DON'T DO those things
I'm GOOD WITH COMPUTERS and sometimes wish I WAS ONE
I'll NEVER let AMERICA get SOLD without a FULLY ITEMIZED bill of sale because I'm LAWFUL AS F*CK
Want to GET TO KNOW ME BETTER? Good luck I HAVE NO IDEA who I AM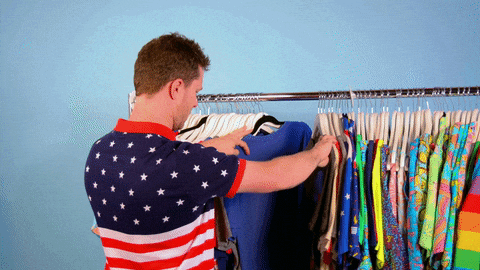 Michael Maiello
Your CAPTAIN is probably KIRK or PICARD
But my CAPTAIN is LOU ALBANO! Or… PICARD!
I MAKE GRAVY out of MUSHROOMS AND MEAT BITS
and if you HAND ME YOUR STASH you won't get ALL OF IT BACK.
If you DATE MY DAUGHTER I will ask WHAT YOU ARE TALKING ABOUT
because I HAVE A SON AND NO OTHER CHILDREN, RIGHT?
This T-SHIRT is ABSURDLY LARGE
and is an UNCOMFORTABLE WAY FOR ME TO LEARN I HAVE A DAUGHTER
Seriously? ALL THIS TIME?
I REALIZE YOU'RE IN YOUR LATE 20s, BUT WE SHOULD HAVE A RLTIONSHP
THE VOWELS WON'T FIT
Maybe I should just GIVE YOU ONE OF THESE SHIRTS
I AM SO SORRY
It's just WHO I AM!
Kelaine Conochan
I'm a former CLASS PRESIDENT and currently NOT FULLY EMPLOYED
I think ATHLEISURE is SUITABLE for EVERY OCCASION
My DAD practices DUOLINGO daily
My mom DIED – there, are you HAPPY?
You'll WONDER OUT LOUD whether I'M A LESBIAN or VEGETARIAN
Because I AM OPINIONATED and ATHLETIC
I correct people when they use the WRONG GRAMMAR or LYRICS
I am the EDITOR of THE PROMPT
So please SEND your COMPLAINTS to MY TRASH CAN
Ariel Cross
I am a WRITER and EMOTIONAL WRECK
I love CARBS and MEAD
My SPOUSE and I go LARPING
When there isn't a PANDEMIC
SOMETIMES I just SCREAM into the VOID
(These shirts are so weird)
Josh Bard
I am too SEXY for my SHIRT
Too SEXY for my SHIRT
So SEXY it HURTS
I need to get the SEXY looked at, honestly
Do you know of a DOCTOR
Who works with UNINSURED patients?
Cause I'm a MODEL, you know what I mean
And I do my little TURN on the CATWALK
Yeah, on the CATWALK
But I do it CAREFULLY
Because HEALTH INSURANCE expired months ago
And MODELS don't UNIONIZE WELL
Seriously… please… MEDIC!!!
Stephanie Tate
I am a MIDDLE CHILD who always gets ignored,
A NURSE,
An obvious LEO who talks at HIGH SPEED
PETS outnumber humans in my household
I'm not unlike a TODDLER, exerting all of my energy into my chosen task and passing out soon after
I'm not sure I'm DOING THIS RIGHT
I love LIVE MUSIC, PARKS, and BEER
I really just want the chance to HUG ALL MY FRIENDS AGAIN
Ángel Bolivar Torres
I bleed
RED, WHITE & BLUE
No, SERIOUSLY
DOCTORS say I have a PROBLEM
But I'm a PROUD
**PUERTO RICAN & TEXAN**
And these colors DON'T RUN
They TREAD LIGHTLY
~Because I'm~
The BEST of BOTH WORLDS
The GREATEST of ALL GALAXIES
The UNDISPUTED and STILL
Heavyweight Champion
Of The UNIVERSE
Sorry NOT SORRY
MY MAMA
Made me THIS WAY
Thomas Viehe
I am the PROBLEM for which there is NO SOLUTION
The taxi man that drives you SICK
With sudden STOPS and the STENCH of socks (or was it SPOILED salad dressing?)
My mother is CHAOS, my father A JOKE
NIGHTMARES sound like fun, like fucking a faceless man in a DIM-LIT ROOM or on a wrought-iron bench on the Mall while a crowd of TOURISTS ask you how to get to Arlington Cemetery and one of them decides to take your PICTURE without asking
CONSPIRACIES I share because I care
(and you need a GUARDIAN ANGEL, what's your number?), did you hear the government's new form of SOCIAL CONTROL, a masked man who sucks dry your soul and your dick and even your bank account?
Are you okay you look white like DEATH. Drink lots of water and keep your FACE clear, it's all we can do these days, but maybe they'll take that away too.
What's that? Is this your DESTINATION? Hold on, I'll do a U-turn, six lanes of TRAFFIC don't SCARE me.
David Leipziger
Yes, I'm ETHNICALLY AMBIGUOUS
But CHECK my privilege
cuz I'm really JUST WHITE
My parents BOTH hold PHDs in ECONOMICS
Which makes me A FAILURE
As a kid I NEVER played with dolls
BUT I WISH I HAD
Woulda given them FANTASTIC NAMES
like VANKLEEF, CLOTILE, & HARMONICA
Do I look DRUNK to you?
Well I have a PROBLEM
No, not ALCOHOLISM
I JUST FIND YOU BORING
Jeffrey Estrella
I am a MISFIT,
An AMALGAMATION of everything I cannot be, at least according to some of those around me.
I am an OVERTHINKER, and a COFFEE DRINKER.
I am an AVID READER, a WRITER, a SPORTS FAN, and a THEATER KID.
I am an OPTIMIST, and an INTROVERT who is clinging onto HOPE in a year that's been A LOT.
Dennis William, writing as Zach (and failing):
Sorry, I cannot SPOT you, bro
Even though
I am an ATHLEISURE innovator.
I was born in a ROMANIAN BLACKSMITH
and experience AGE REGRESSION when I hear
metal pinging sounds.
Yes, those are my PHEROMONES you smell
My UMBRO SHORTS have been around the block.
Please, do not take my FIXIE BIKE
sculpted thighs FOR GRANITE.
I belong to the universe.
WHERE IS the nearest buffet,
because I am here to SAMPLE all life has to offer.
How DO YOU wanna split this check?
Eva Kriksciun
I am a MONUMENT, in that I am DUSTY and of another era, and people are tearing ME DOWN. My PARENTS never told me I was bad at ANYTHING so my confidence remains unchecked.
I smell of MEAT and OLIVE OIL.
I've never done a PULL UP in my life, so my arms are noodles.
When I DO get JEOPARDY correct, the category is usually MUSICAL THEATRE.
But I like other stuff too.
Tom O'Gara
I grew up in BOSTON but
I don't have that ACCENT anymore.
My WIFE is cool and
FUNNIER THAN I AM.
She says she LOVES me but
I think she wishes I was CHRIS EVANS.
Our FLAMINGOS are plastic
and the focal point of our home.
I'm HUNGRY and would like a
QUARTER POUNDER w/CHEESE meal.