It's MISSED CONNECTION week here at The Prompt, and while I was trying to wrap my brain around that (my brain is built for seeking out connections; it tries so hard not to miss them), I kept circling back to love, romance, broken hearts, and country music.
Now that the #DOLLYPARTONCHALLENGE is a thing, I think it's high time I unleash my thoughts about Dolly Parton upon the internet.
I'm presenting it to you in stream of consciousness fashion. It's broken down for your reading enjoyment in a digestible listicle format. To stick with the prompt, there's notes on if what you're reading is a connection or a missed connection. Does that sound fun or what?
RED ALERT YOU GUYS! DOLLY PARTON IS A SOCIAL MEDIA MASTER!
Turn down the distractions, turn up the rhinestones and let's get this party started!
1) I've been wanting to be in a silly, goopy, lovey-dovey romantic place lately.
Maybe it's because I started off the year thinking that I wanted to live with my heart taking the lead. And when my heart takes the lead, it usually finds its way to Dolly.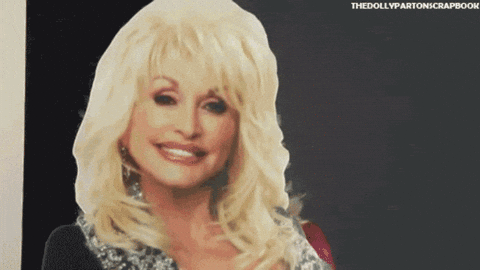 I'm sure I'm not the only one that feels connected to her through her music, her life, her love of sparkles, her big hair and even bigger boobs. There's a reason she has a career that's lasted four decades and counting.
Dolly Parton: that woman writes songs that speak straight to the heart.
She's got songs about love. Songs about dreaming and loving yourself enough to risk everything to follow your heart. There are songs about ambition. About wanting to be the one in the spotlight. And there are songs about being hurt.
When your heart is as big and as open as Dolly's, you're bound to feel the pain of it, too. Even in the heartbreak, she knows that she's got everything inside of her that she needs and she keeps on moving.
Also she supports literacy.
This woman is a national treasure. (Connection).
2) I recently adopted a cat. Her name is Corinne.
It rhymes with Jolene. And if you're the kind of woman I am, which I happen to be, you do not sleep on this prime opportunity to bring more Dolly Parton into your life. I sing "Corinne, Corinne, Corinne, Corinne" to the tune of "Jolene" to the new kitty all the time. My kids to it, too. So does my husband.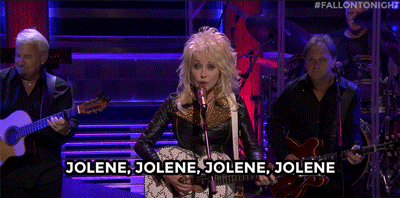 It's the best.
I played the song for everyone and just kind of left the playlist going to see what would happen. Would they take the bait? Am I really going to get away with listening to Dolly with my kids?
They did. I am.
My son asked "What is this music? I feel like I am in country paradise."
You are my son, you are. (Connection).
3) Let's talk about the song "Jolene."
Can you listen to this song without singing along? Without your heart breaking? How can you hate Jolene? Dolly doesn't even hate her. She loves her man. And she's terrified that this woman will come and snatch him away.
"Jolene" is a song about insecurity.
About thinking that you're not good enough. That someone out there is better than you and might take something away from you. That you're not good enough as you are to hold on to your man. It's the fear that your connection isn't strong enough. That a beautiful woman can come and swoop that man up and you wouldn't even be able to compete. That's a shitty feeling. (Missed Connection).
4) Let's fast forward to right now.
Dolly's been making these movies for Netflix about her songs. I've only watched one, so far. It was the one about "Jolene." That movie had so much compassion and understanding for what it is to just be a human. It makes you love every woman that's caught in this situation because you get to understand all of their points of view. (Connection).
This movie shows what it's like to be the woman in the marriage that isn't exactly bad, but it's not exactly great either. (Missed Connection).
It shows you what it's like to be the beautiful, talented young woman that all the men are drawn to. (Connection).
It shows how to have loving, supportive female relationships. How older women can mentor and support younger women. How women can bring out the best in each other (Connection).
It also shows how a young, beautiful woman could decide to have a relationship with another woman's husband. And how women start judging each other's choices harshly and then decide to cut each other out of their lives without any warning or conversation. (Missed Connection).
And then, it goes all the way into looking at how women can still have relationships with each other if they set aside their judgment and their personal insecurities in order to connect with each other—but more importantly themselves—from the heart. (Connection).
5) This is a new-to-me song. It's called "Here I Am."
The lyrics are basically about being this person in the world that has this big old heart that wants to help others and share the love. (Connection).
There's also loneliness in this song. Her world is an empty place and she needs someone to share her love with. (Missed Connection).
I notice that I do lots of things to try and make it safe for people to connect with each other in more emotionally vulnerable ways.
Some people really go for it. Others do not. Younger kids do it naturally. Older kids not so much. They know a little bit about what it means to be let down and hurt by other people. Adults are pretty tough nuts to crack. Relationships are hard and it's scary to let down your guard with another person and have a face-to-face and heart-to-heart conversation with a friend or a romantic partner. We've all been hurt in that place. And it's awfully lonely out there when the walls stay up and all you have are empty, superficial relationships. (Missed Connection).
I relate a lot to both sides of this song. (Connection in Missed Connection).
6) I have to tell you about "I Will Always Love You."
You probably know the Whitney Houston version. Maybe you already know that Dolly wrote this song and that it was used in the movie The Best Little Whorehouse in Texas. Dolly played the madame of the whorehouse. Burt Reynolds played the sheriff. They were lovers. And it had to end. Heartbreaking. (Missed Connection).
This song tells a story about a woman that loves another person so much that she recognizes that she's holding them back. And that even though she loves this person so much, the very best thing that she can do is let them go. (Ultimate Missed Connection).
That's some heart wisdom right there. Sometimes the best way to love another person is to let them lead the life they are meant to live, even if it's without you. As a parent, this is something I think about all the time. I love these little people so much and want to hold on to them forever, and it's my job to set them up to be successful in life as independent beings. I have to love them so that I can let them go. (Connection).
7) "Islands in the Stream" is my favorite Dolly song.
I have no idea what it means to be islands in the stream, but this song makes it sound really good. (Connection).
The story goes that this song is written by members of the Bee Gees. Disco was out. Country-Pop fusion was in. The phrase "Islands in the Stream" comes from an Ernest Hemmingway novel that was discovered by his wife and published posthumously. Kenny Rogers was in the recording studio with Barry Gibbs and the song just wasn't working. Kenny didn't like it and Barry said we need Dolly Parton.
No shit, you need Dolly Parton. Everyone needs Dolly Parton.
It just so happened that Dolly was in that very building, she made her way into the studio, breathed new life into that song and made it shine. (Connection).
I still don't know what being an island in the stream is, but I sure do want to try it.
Who wants to join me? (Attempted Connection).
8) I don't think I did this Incomplete and Growing List thing right. (Missed Connection).
Maybe one of these days I'll be able to tell a story as clearly and succinctly and as deeply centered in the heart as Dolly. I'm going to keep practicing, keep listening to that voice inside me that comes from MY heart, and keep getting it wrong until I finally get it right.
It's what Dolly would do.
Until that day comes, I leave you with this.