Fashion is cyclical, trends come and go, and sometimes, we as a society, commit to looks that get buried in in the sands of time. Right now, depending on what you read or who you ask, we're in the midst of 90s nostalgia, 80s vintage, 70s flow, or any other number of tried and true era-inspired fashion. However, as we move away from the trends of the past, there's one decade I will urge—nay, beg—we ignore altogether. I'm talking about the 2000s. While there are trends from every decade that should be put to rest, there is no other decade with the most truly atrocious choices across the board.
Here are 11 trends from the aughts that ought never come back.
11. Extremely fancy tops with jeans and flip flops
The style was just a mismatch of tone and occasion, but it was definitely a thing! Why were we wearing adult work tops with the most casual jeans? Also, the pile of many, many long necklaces need to stay dead.
10. Giant square sunglasses
What was the point of these? They look so stupid and are not flattering on anyone. I remember desperately wanting a pair of these, thanks to dozens of hours of The Hills marathons. But these shades are actively bad. Let's stick to wayfarers forever, yeah?
9. Low rise jeans
At first, I was not into mom jeans, or high waisted jeans, whatever you'd like to call them. Now I love them. They make my butt look amazing. I can tuck any shirt into them and I look a thousand times more put together. Also, they are great to wear with crop tops. Mom jeans forever. Low rise jeans are the most dangerous invention of the 21st century. Not only are you constantly pulling them up, you are constantly in danger of flashing your butt crack and/or underwear. Also, who wants to show just a slit of abdomen skin?? I am not a model!  Is my lower abdomen flesh really that sexy?
8. Baby doll t-shirts
I am a big fan of t-shirts. I have t-shirts that commemorate my sports teams, ones that celebrate my favorite movies and shows, and some nicer striped shirts that make me look more put-together than my 13,000 Star Wars shirts. But back in the aughts, I wore "baby doll" t-shirts, which were not short enough to be considered a crop top, but not long enough to be considered an actual t-shirt. They were meant to be paired with—you guessed it—low-rise jeans.
These shirts also had sayings on them like "Brunettes have more fun," or might have had tiny, cute animals on them. Baby doll t-shirts were not flattering, and every statement made on them was a hop, skip, and a jump away from "HAVE SEX WITH ME." I'm not one to judge: Live your best life, but maybe we don't need t-shirts to announce our desires and/or availability.
7. Extremely skinny eyebrows
Thank GOD the bold brow is back. I have a giant forehead, and plucking my eyebrows to be as skinny as possible is a TON of work and looks extremely unflattering on me. But to be fair, skinny eyebrows have been flattering on two people in the history of time: Marlene Dietrich and Audrina Patridge.  LET YOUR BROWS GROW, LADIES.
6. Baggy jeans and/or cargo pants
This was sort of the male equivalent of low rise jeans, although I did rock a pair of cargo pant CAPRIS for a time. Let's all agree to wear fitted clothes, cool?
5. Sweatpants and/or shorts with words on the butt
Why was this a thing? Why did I feel comfortable wearing shorts that read "SPARTANS" or "SOCCER" across my ass as a 12 year-old? I mean, I do have a great butt. But still! This was a weird trend!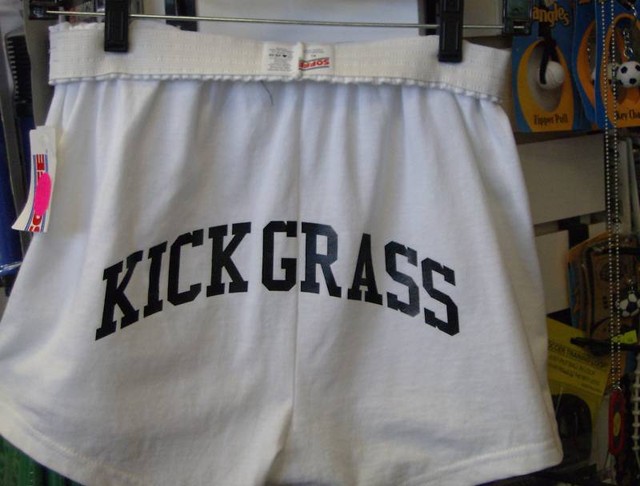 4. Basically everything going on in the formal wear in this photo
Both of the cuts of these dresses used to be everywhere. Both are very bad. Big earrings + little dress = bad look. And this dress with a dropped waist + chest cutout… WHY?
3. Bad headbands
I like headbands in general, but thanks to both The Hills and Gossip Girl, headbands of every imaginable size, material, and shape were everywhere in the 00s. I fell victim to the call of the bad headbands many times. But let's let it go.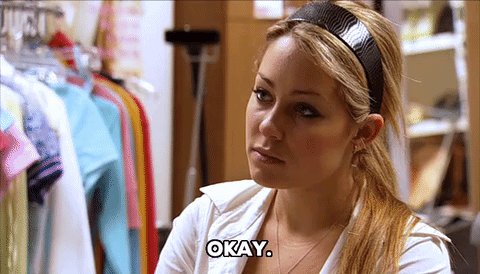 2. Shrugs
Remember shrugs? Remember how shrugs were EVERYWHERE and EVERYONE had them and we thought we looked amazing? We didn't. Regular sweaters are fine, we don't need to chop them in half.
1. Hats
I LOVE HATS. I do! In theory. But hats in the 2000s were all truly horrific. Trucker, page boy, beret, bucket, floppy… you name it, we wore it. Some hats are timeless. These hats all scream "it's 2003!" and need to absolutely stay there. I dread the day when college students are having early aughts parties. But we deserve to be shamed.
---
I hope you've enjoyed this trip back to the 2000s, but that we can put all of these fashion choices behind us. May this be the last reminder of the things we put on our bodies in those strange years . What other trends would you want to leave behind? Let me know on Twitter what you've burned from your closet, or what you've kept for nostalgia purposes.